If you got an email saying "New Mobile Usability issues detected for site" there's a good chance nothing is wrong with your site.
There is a Google bug that has been around for a couple of years now, where Google Search Console will issue a "Mobile Usability issues detected" warning when the reported page is actually fine (yup, even Google has bugs sometimes!).
But here's how to make sure everything definitely is OK.
What Does the 'Mobile Usability Issues' Message Look Like
Firstly, this is what the 'your site is broken on mobile' message looks like:-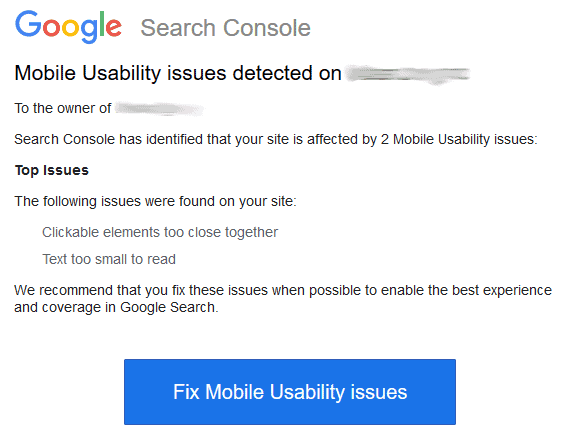 So it's these two 'issues' that suggest the site isn't working properly on mobile:-
Clickable elements too close together
Text too small to read
Just to be clear – you will correctly get these messages if your site is genuinely NOT mobile friendly. So never ignore them if you're not sure!
How To Check if the 'Mobile Usability Issues Detected' Message Is Wrong
In the email you received from Google click the big blue 'Fix Mobile Usability issues' button. This will take you to Google Search Console, and load the 'Mobile Usability' report page for your website.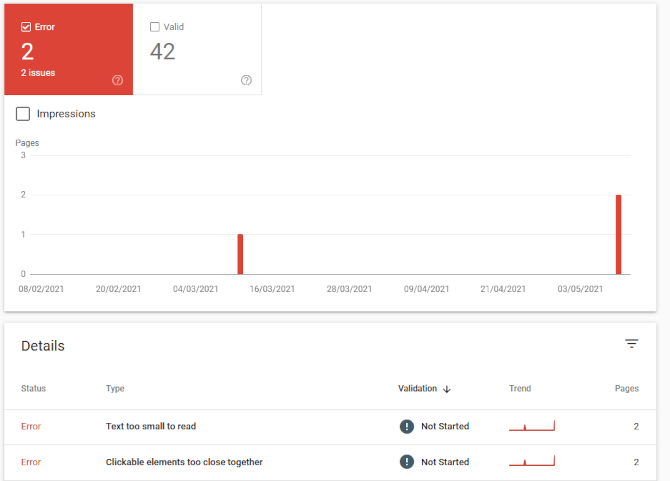 Here you can see those two warning messages (from the email) again, and the number of pages Google currently thinks have this problem.
It's not obvious you can do this, but now click on one of the error rows in the 'Details' section of the report (either one is fine). This will take you to a new page with more information:-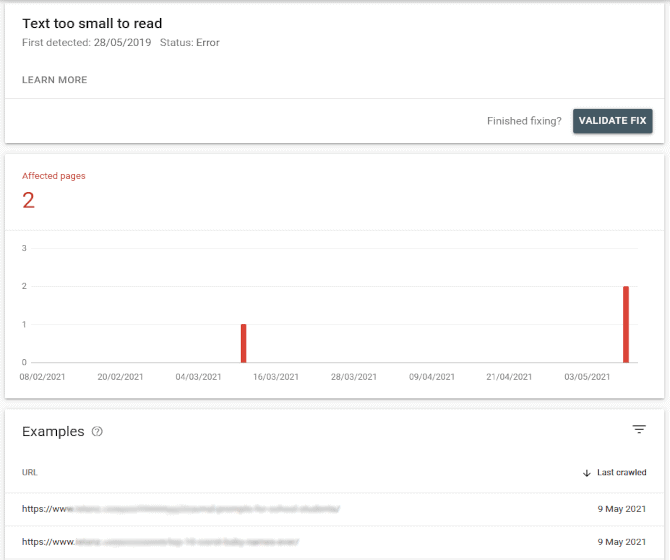 The important part here is the 'Examples' section which tells you exactly which page(s) Google says are a problem.
Again it's not obvious, but click on a row in the 'Examples' section and a sidebar will pop out:-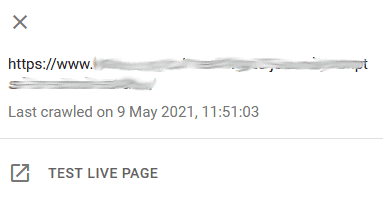 Now click on the 'Test Live Page' option. A new browser tab will open for Google's 'Mobile-Friendly Test' and the live page will be automatically tested.
This typically takes about 30 seconds to run. Once completed the screen will show an image of how Google sees your website using a mobile device together with a 'red' or 'green' report of whether your page is mobile friendly or not.
This is what good news looks like:-

If your page fails this test and you get the red not mobile friendly message, then see below.
Assuming your page has been reported as fine (despite the email saying it wasn't!), now close the 'mobile-friendly test' window to get back to Search Console. Then click the 'Validate Fix' button at the top of the previous screen:-

Google will pop up a message saying 'performing quick initial validation' (for about a minute), before eventually saying 'validation started':-

They will also send you an email to confirm they are 'validating your fixes'.
Note: you don't need to do this for each URL as Google assumes you 'fixed' all pages affected by that error. You can do 'Validate Fix' for the other of the two error messages but it's not really necessary.
How Long Before Search Console Reports This Fixed?
Google will send you an email to confirm that the problem is fixed (even though you haven't actually changed anything). Typically this will take a day or so.
Here's the email to look out for:-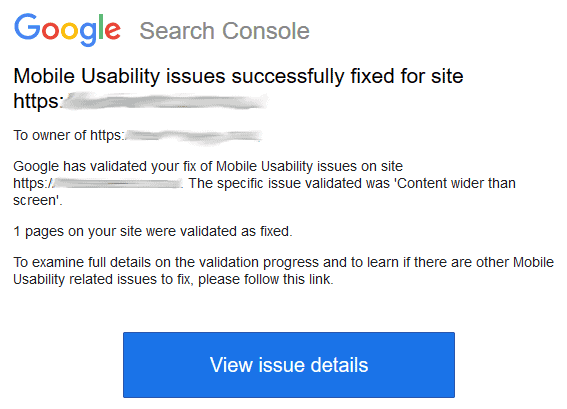 Thanks Google. 😉
Note: on rare occasions you'll get an email saying the fix failed. This is actually just the same bug, so simply submit it again. The best we've ever scored is 2 times in a row, and only on the 3rd time was it reported as 'fixed' despite no changes being made to the site at all!
What if My site Is Genuinely NOT Mobile Friendly?
If your site fails Google's 'Mobile-friendly test' then that is definitely something to be concerned about. Because this will greatly affect your ranking in Google search results. Also bear in mind typically around 60% of most websites visitors are on a mobile device – so this is likely to be very similar for your site unless there's a very good reason why not.
Failing the test can apply just to certain pages of a website, or it can affect an entire website. So fixing it can range from being fairly simple to quite complex. Either way you will likely need a web developer to make the necessary changes and verify that there are no other problems.