Getting to the WordPress dashboard is easy (but then everything is easy when you know how!).
To access the dashboard you do have to be a logged-in user. If you don't have an account for the site, you cannot access the dashboard at all.
Here's how to log-in to a WordPress site if you're not sure.
As soon as you log-in you will be taken directly on the dashboard page. This is sometimes also referred to as the admin panel or admin area – but it's proper name is 'Dashboard', which is the name of this specific page rather than the whole admin area of WordPress. Which is also what it says at the top of the page 🙂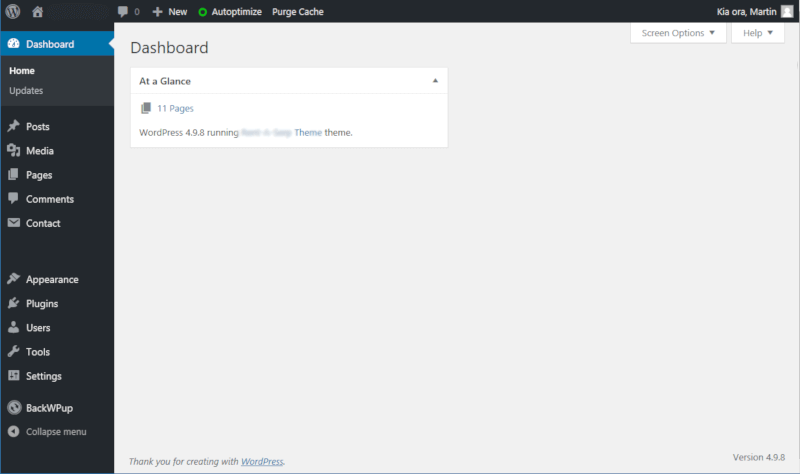 How To Get Back To The WordPress Dashboard
Sometimes you need to get back to the dashboard, after you've been moving around the admin area, creating posts etc.
You can always find your way back via the main menu on the left. The top item will always be 'Dashboard'

You can either click directly on that, or on the 'Home' option in the pop out menu that appears when you hover over 'Dashboard' in the menu. They both do the same thing.
Get More Help With WordPress Here
How To Get Plugins On The WordPress Dashboard
The dashboard page is a lot more useful than just the landing page when you first log in to WordPress. You can add various useful items to this page to instantly see what is going on with your site, without having to dig further.
You can also remove some of the clutter that appears there by default that you probably don't want.
First, look up to the top right of your screen – you should see a little box that you've probably never noticed before, that says 'Screen Options':-

Click on this and a small menu will pop out from the top of the screen. It will look a bit like this:-

Exactly what options you get here will depend on what WordPress plugins you have installed.
All you need to do is 'tick' or 'untick' the boxes for the options you want to add or remove from the dashboard screen. The screen will update immediately so you can quickly try out each of them and see what they do.
Turn off everything you don't need, add some useful boxes and this screen becomes a whole lot more useful than it was before.
TIP: You can also rearrange the items on your dashboard too. Just use 'drag and drop' – that is, pick them up with your mouse, and move them around.