How Do I Create a WordPress Website for My Business?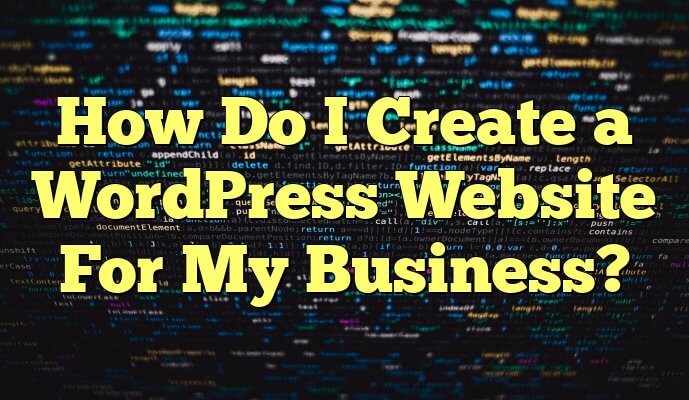 The overall process of creating a business WordPress site is fairly straight forward – in short you just:-
buy a domain name
buy web hosting
point your domain name (name servers/DNS) to your web host
install WordPress onto your hosting account
start designing your site and creating the content
But of course this nice short list does conceal a certain degree of technical know-how. If you've never done this before, it's realistically going to take at least the best part of a day just to get those first 4 items ticked off.
Then No.5 is where the real work begins! 🙂
How Long Will It Take to Create Your Own Site?
Creating a business WordPress site yourself from scratch is going to take somewhere between a few days and a few weeks. All depending greatly on your technical ability and what kind of site you need.
But be prepared that you may not be able to achieve the level of results that you really want.
So as a first step I'd strongly recommend putting a price on your time for this. For a typical business site (home page, services/product pages, about us, contact page, terms) you would likely end up spending 3 weeks or about 100 hours working on this. If your time is worth $50 an hour, that's a $5,000 cost of your time. Time that could be spent on bringing in dollars instead.
Do You Only Need a Basic Website?
This all depends enormously on what kind of site you want to build of course.
A lot of businesses say they want a basic site, but then list out all the things that they actually need the website to do. It's becoming fairly rare for a truly basic site to be enough anymore.
If you have a small local business which is lucky enough to have little to no competition online, you may be able to get away with a basic 'business card' type site. But even then, your site may sell a lot better if it provides a fuller picture of your business and the services it provides.
Because there is a lot more to the best WordPress web designers than just making pages look good. Good designers will want to know all about your business because they will be designing sales into the site. They will be able to structure your site better for converting more visitors to customers, and for getting more visitors from the search engines. Business web design requires marketing skills too.
An Alternative For Basic Websites
If your needs really are very simple and you are dead set on doing this yourself, then you may want to consider a service like Squarespace or Wix instead of WordPress.
[Read more on this in Squarespace vs WordPress for Business]
On the plus side these 'visual page builder' services use templates and provide limited options. This makes it easier to get something put together, although there is still some learning curve.
On the negative side, these services are designed to keep you in the ecosystem. You cannot take your site anywhere else as you can with WordPress. So you are locked in to their service (paying a monthly fee). It's also perfectly possible to still end up creating a site that looks like a complete dogs dinner.
So bear in mind that it does take a lot of skill and experience to create a site that both looks good AND performs well for your business.
But if you are a new business just starting out and just don't have the funds to build something professional, then Wix or Squarespace will get you started.
If you're an established business however, you really need to think of your website as your main shop front and sales team all rolled into one. If you don't have retail premises then it's likely to be the only thing a potential customer ever sees of your business. You really don't want to end up looking like a pop-up $2 shop!
Read More