Is WordPress Good for Small Business?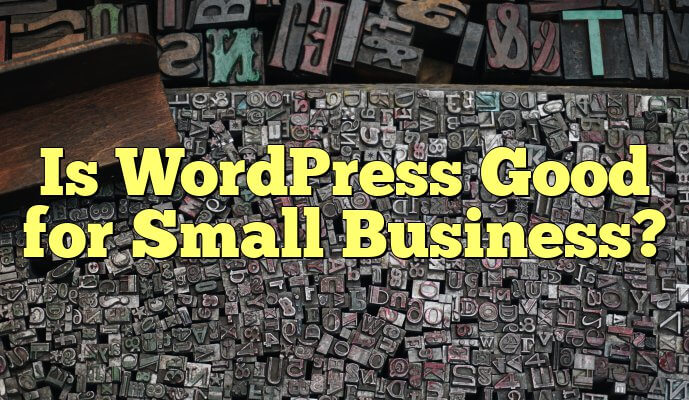 Some of the largest companies in the world use WordPress – companies like Sony Music, MTV, PlayStation and Mercedes-Benz. And there are over 24 million websites now using it. So is WordPress good for small business websites? Definitely.
WordPress is however a tool, so just like any other tool, the results depend on how skilfully it is used. There are some stunningly good WordPress website designs – and there are a lot of outdated, badly designed and downright ugly websites built with it too 🙂
But put those tools in the right hands and WordPress is an enormously flexible, and powerful, platform for creating great looking websites that suit a wide range of functions. And yes, you can make WordPress websites that are mobile friendly.
You can build a basic small business website on the platform, providing information about your company, your services and how to find you. Or you can build a whole online store using it.
[Also see how to create a wordpress website for a business]
WordPress is highly adaptable and expandable. There is a large and ever growing library of 'plugins' that can add additional funtionality to the core WordPress system. With careful use this can add pretty much any additional feature you can think of – everything from online booking systems, chat and support functions, integrations with Google Maps, shopping carts and checkout processes etc.
And if there is a feature you need that doesn't exist, it can be added. WordPress is written in 'php', which is one of the most popular programming languages in the world. And it's designed to be extendible, so programmers can create extra custom features for you.
When Is WordPress NOT WordPress..?
Just to be clear. We're talking here about what is known as 'self-hosted WordPress'. This is where the WordPress software is installed on whatever business web hosting service you choose.
This is very different to the service provided by WordPress.com, where they also provide the web hosting. That may sound useful and highly convenient. The major drawback however is that you get a very restricted version of WordPress where you cannot add all those extra features that are what make WordPress so powerful in the first place.
There are also platforms such as Squarespace which promise an easy templated way to build a professional website for small businesses. There are some dangers however to aware of when comparing Squarespace vs WordPress for small business. One of which is the similar situation as with WordPress.com, where the Squarespace platform is more limited and locked down.
So do choose wisely!
When Should You NOT Use WordPress?
You need to use the right tool for the right job. And whilst WordPress is an amazing tool that is incredibly versatile, it's not necessarily the right solution for everything. Sometimes a static HTML site is all that's needed (we compare HTML vs WordPress websites here). Sometimes a different tool altogether is the best solution. Take guidance and discuss what you want to achieve with your web designer.